Registration is now open for both 
Late Spring May 25-June 23, 2015
Adult classes meet weekly for 3 hours.
Kids/Teens after-school classes meet weekly for 2 hours.
Summer July 6-August 8, 2015
Summer Sewing Classes
Adult classes are M & W evenings, T, Th, Fr, Sat am  
3hrs per week for 5weeks.
Kids/Teens Summer Vacation classes meet 2-5pm M-F
Sign up for 1 or more of the 5 sessions scheduled.
More weeks may be added in Late June (22) and through August (29)
  ***************************************
 LovetoSewtoLovetoSewtoLovetoSew 

We are now taking registrations for our next session of sewing classes.  Register now to secure your spot.
Space is limited.
My Speedy sewing student, Sophia, made this vest out of blue fleece and bias trim.  Looks great, fits great and she did a wonderful job.  Doesn't the zipper match perfectly?
This Late Spring Session begins the week of May 25 and most of the classes are for 4 weeks, with an exception of 3 or 5 weeks. The class dates are listed on the registration form, which is linked above where it says REGISTER NOW!
The details about summer classes are in the green block below.
Ginny's Linen Coat
Whether you're a beginner or expert sewist, you can find something to learn here at Laura's Sewing School.  From learning how to set up your machine and mastering the basics.  It could be learning speed techniques, while maintaining the quality of your work, or even improving it.  Or, the details that bring your work from OK, to WOW!
Close up of Ginny's Coat.  She found this remnant at Zimman's of Lynn, MA.  The pattern is a simple cut pattern from Vogue, (I know, is there any really simple pattern from Vogue?)  It's a perfect pairing of fabric and garment style.  Excellent job!
Back view of Ginny's Coat.
Adult classes meet for 3 hours per week and are available M-Sat. 
either morning or evening.

Kids/Teens
 after school Sewing Classes meet for 2 hours per week and are available on Tues, Weds and Fridays.  Open to Ages 9+
You can see our schedule at the bottom of this block.
*********************************************************************************
We offer:
Semi-private lessons which allow you to create  
what you want, at your own pace!
What does this mean?
First off, the classes are small in size, 5-6 students, so that we can give instructions to students, one on one, during the class.
We customize our instruction to the student.  We see how you learn, and if one way doesn't work, we find a way that does for you.
We don't specify a project for you to work on, you choose what you create.
We will help you choose a project that is right for your level of experience, but it is your choice of project, pattern and materials.
Because we work with each student individually, you can be a beginner in any of our classes.  (unless noted otherwise.)
Since there is no deadline for when you finish your project, you can work at your own pace.  There's no right or wrong speed when it comes to learning to sew in our classes.
ONE NOTE: We will fill the T, W & F after school classes before we open registration for the Thursday Kids/Teens class.
Here are some helpful Documents:
The pictures above are of a Tea Cozy, made by Melissa L.  I just love the fabric!  It's bee themed and the outside is the picture on the left, the interior picture is on the right.  I'd have a hard time deciding which side to use.  She did finish it well enough that you could use either side.  It's being donated to an auction for the Waldorf School in Lexington.
SUMMER CLASSES @ LAURA'S SEWING SCHOOL
Summer is coming quickly upon us.  We will be offering Adult Sewing Classes which will meet once a week, for 3 hours, over 5 weeks time, beginning July 6, 2015.
Adult classes times are in the mornings or evenings.
Tuesday, Thursday, Friday & Saturdays 9:30am-12:30pm
Monday and Wednesday Evenings 7-10pm
Kids/Teens Summer Vacation Sewing Classes 
will work differently than the adult classes.  
Sign up for 1 week at a time, choosing any of the weekly sessions offered. From June 22- August 29
Each session meets M-F, 2-5pm
For ages 9-18 yrs old. (younger must be accompanied by adult or approved by Laura) 
Beginner through advanced skills.
Classes limited to 6 students
Teacher/Student ratio of 1:3
Bring your own machine, or use one of ours for a small fee. ($30/wk)
Student gets to work on projects of their choosing. They pick/purchase their own materials.  We will assist students in this so that they pick something that will give them the best skills and success.
Students get a discount at the fabric store downstairs 
Students work at their own pace.
Teachers work individually with each student, customizing our instruction to the student's needs
Students can sign up for one, two, three…..as many weeks as they wish to attend.
No makeups are given for these vacation week classes.
Cost $260 per week.  Machine and materials extra.
The summer classes are listed below the Late Spring classes on the registration form.  Click the blue link above to go there.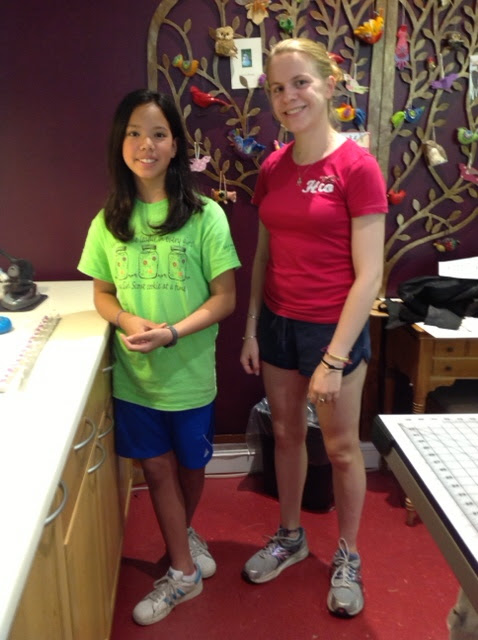 I have some wonderful helpers this year. Stephanie Griffin (in red shirt in picture to the right) has worked with me several summers and the kids love her.  Amy Lane is just finishing her second year in the Fashion program at Mass Art.  She will be bringing some great skills and ideas to the program.
(Click on map or highlighted address to go to the same map online.)
Parking on street
Arlington, MA 02476
Don't forget to Tell a Friend!